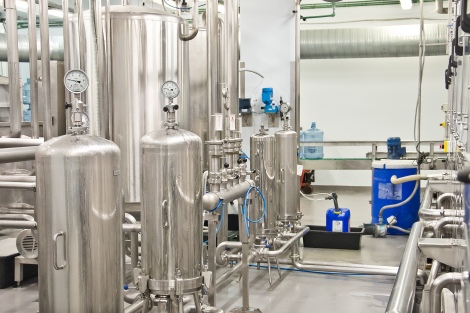 VENDEN BUSINESS DESCRIPTION
VENDEN is founded in 1997, main business is production of spring water and natural mineral water, lease of water consumption equipment, sales of coffee and related products, as well as lease of coffee equipment. In the 18.9-litre water business it has been working for more than twenty years and it is a market leader in this water sector. VENDEN is Latvian company established by family with no foreign investors; it's not a company of some big global company group.
VENDEN initially delivered spring water to customers just in bottles of 18.9 litres, production capacity was small, and most of the production processes depended on human resources. However, in 2008, thanks to successful use of financial support from the European Structural Funds, the plant was modernized, a new, powerful water filling and bottle washing line were installed with a capacity of over 1200 bottles fully treated per hour. Another aim of modernization of the plant was to maximally exclude physical workload of the plant's employees, thus robotizing the movement of products from line to transport containers. All these investments, ensured execution of growing demand for production, improved production efficiency and decreased costs, as well as enabled the company to steadily move to the leading position in competitive market.
In 2010, VENDEN expanded its range of products by continuing to stick to the basic values defined in the vision regarding production of natural products, and also began to produce natural mineral water in smaller volume PET and later also in glass bottles. This strategic step also required large financial investments but the aim was justified, because there is very little natural water producers in Latvia, while the demand for natural products among local consumers is still increasing, thus market trends are promising.
From the beginning one of the main goals of VENDEN was to become the leading natural water producer and supplier in Latvia focusing on investing funds in development, attracting and training knowledgeable, loyal employees, effectively using existing resources and providing the best service in the industry. For several years the company is absolute market leader in the 18.9 l water business. At the moment, the company has more than thirty thousand delivery points throughout the territory of Latvia.