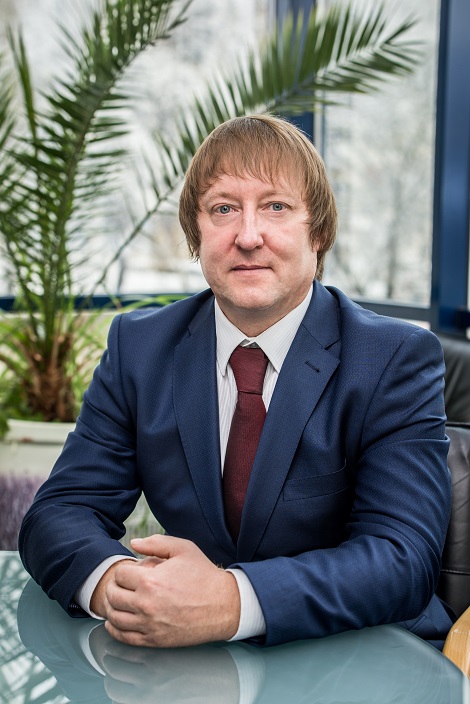 WHY VENDEN?

Aldis Škutāns, Executive Director of VENDEN, says
I have never thought before that water industry could be so diverse, interesting and exciting but at the same time so complicated. I grew up in the countryside, in Latgale with a water well, easy-going summer swim in lake of Liksna and taking of steam-bath on Saturdays. In my childhood if someone said that one day I run a company selling water, I would definitely laugh, laugh to the bottom of my heart about such foolish joke, because who buys water if it has always been around, it has never been missing, you have never had to pay for it. At that time all boys dreamed about space, wanted to run trains and ships, build bridges.
However, so goes the world, I've been involved with VENDEN for several years now. When starting to run this company, previous professional experience in production companies has significantly helped me to understand importance of investing in development and importance of keeping a top-quality level for business sustainability. Today customers are knowledgeable, the company cannot disappoint their trust and hope that it will not affect future cooperation, Latvian water industry is very saturated, each mistake can be crucial for the company. Unfortunately, a price still is determining factor for consumers for water choices, there has been very little debate about the quality of water, significant differences between drinking water and natural water, product labeling and regulatory norms. I believe that it is largely a deliberate passivity both from leading drinking water producers and leading chain stores, thus avoiding loss of sales volume and profits.
The company VENDEN can be proud of achievements of recent years in both new product and service sphere, as well as quality and service development sphere. Customers are offered water consumption devices of the latest generation with touch screens, significantly lower power consumption and patented sterilization systems. We have implemented and maintain on a daily basis a food quality safety system, we have received ISO 22000 certificate, as well as NATO opinion regarding that VENDEN plant and products meet the highest quality requirements. Coffee business is rapidly developing. In 2019 company's turnover reached more than thirteen million euros. Liquidity and profitability indicators are very high for the company.
However, I am one of those people who always looks for fresh idea, who believes that what has already been achieved it is not enough, rational, intuitive and emotional thinking makes one step closer to the aim. Of course, both team and family support are important. In my family there are two small boys who have been taught from the very beginning to drink water or freshly squeezed juice made by ourselves, rather than over-sweetened lemonades. While on a daily basis "fighting" with broken mugs, half-drinked bottles, spillages in a car, there was the idea of a product that was specifically designed for children and teenagers. A product that will be user-friendly for children, that will be attractive and the most important - healthy.
Finally, one of my little dreams become come true, VENDEN has created products that are able to positively affect the choice of youngsters, which for the most part is the first choice in everyday life and at sports lessons now. We notice and feel happy about that educational institutions, sports organizations and parents appreciate and support VENDEN efforts to promote healthy lifestyle, because not only in Latvia but also in Europe the number of children who have various health problems is increasing (overweight, diabetes, postural disorder that over time cause serious illness).
When working in VENDEN and leading a team of professionals, it's easy to be a patriot of own land, i.e. you work in Latvian company, you supply customers with a miracle created by nature of Latvia that can confidently compete with the world's most famous brands of water. You are proud of the most modern plant, its capabilities, you are proud of that so many customers have been loyal to the company for many years, that you can realize ideas in life and they are appreciated by population of Latvia. Somebody might say - it's just a water, but I say - it's a special water, it's the best water in Latvia - VENDEN water!
The story of VENDEN Sales Department staff:
Latvia is a small but special country with rich history, wise, talented and strong people, a country with unique nature and its values that we are enable to use on a daily basis. Since starting the business we, VENDEN team, have taken care with the sincere respect, love and responsibility of natural resources we use everyday to deliver the best natural products to our customers.
We can say to ourselves that water is only water and does not matter what water we use everyday, but in fact our loyal customers has proven that origin, quality and service of water are important long time ago. We are sometimes angry when there is rusty tap water, worry that we feel the presence of chlorine in the water stronger than other times, worry if again one of the household devices is calcified or angry at ourselves if "someone" drank your favorite water at home, but not bought in place. As if they all are such everyday stuff, they tend to happen in the most inappropriate moments when you do not want or have time to think about that.
You're probably wondering why exactly VENDEN water would be the best option? We are really proud to answer that there are actually several reasons. First of all, VENDEN natural spring water is unique due to its composition, quartz sand layer through which flows clear spring carries out an unbelievable work, removing spring water from iron and lime, making it soft with optimal content of minerals. Spring water does not contain preservatives, it can be used without restrictions. Secondly, hometown of natural mineral water VENDEN is Cesis that has never been an industrial center, but for centuries various treatment and recreation facilities have expanded their activities, thus maintaining ecological environment in Cesis and its surroundings to this day. Thirdly, abstraction sites of natural spring water and mineral water are located in Vidzeme Upland with an average height of 200 to 300 meters above the sea level, and we all know that both air and water are always cleaner in the mountains. Fourthly, we are Latvian company that has always been thinking by own efforts about development in production and creation of new products, as well as in logistics and customer service. Finally, we're just a great, smart and strong team proud of VENDEN name and we believe to the bottom of our heart that there is no better water in Latvia than VENDEN spring water and natural mineral water VENDEN.