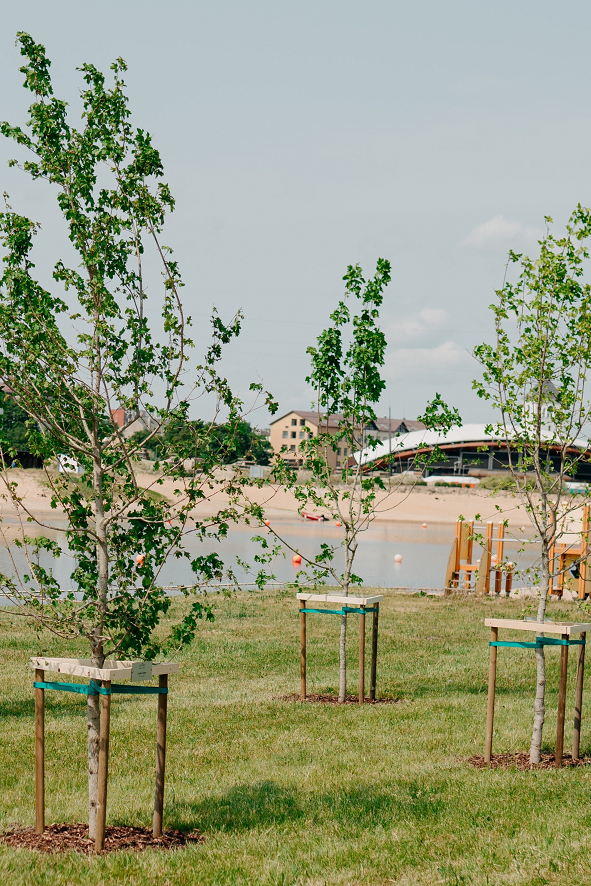 At the end of May, VENDEN, the Latvian manufacturer of spring and natural mineral water, continued the started campaign planting trees on the Lielupe promenade in Jelgava. Such a gift to one of the Latvian cities is a tradition commenced by VENDEN 4 years ago, by choosing one of the cities where the VENDEN branch is located every year as a result of a public vote.
Continuing the improvement of the environment, VENDEN, in cooperation with Jelgava state city municipality, planted 10 field maples on the promenade between the swimming area and the heart bird sculpture. The event was attended by the executive director of SIA VENDEN, Aldis Skutans, and the deputy Chairman of the Jelgava City Council, Jurijs Strods.
"We are very happy that for the fourth year we can green places where families with children gather, people play sports and spend their free time. Family, active lifestyle, sports and nature are the core values of VENDEN, which we cultivate by implementing various activities. Taking care of nature and the surrounding environment, we also try to reduce the consumption of natural resources as much as possible in our daily work, for example by introducing a digital invoicing system and renewing the shape of bottles and caps so that less plastic is used in the manufacturing process. We also recycle about 40 tons of plastic every year," says executive director of VENDEN, Aldis Skutans, expressing his gratitude to the Jelgava City Council for cooperation within framework of the project of this year.
"During the last years, in Jelgava, on both banks of the Lielupe, we have created excellent recreation areas with a promenade, beaches, children's playground and sports fields. We are improving and supplementing them with both infrastructure objects and new plantings. That's why it's great that the VENDEN team also contributed and added tree plantings on the promenade," says Jurijs Strods.
For the first time, the VENDEN tree planting campaign took place in Riga in 2020, when the park of Ebelmuiza in Ziepniekalns was supplemented with 15 dendrologically rare trees. In 2021, Daugavpils was chosen in an online vote, where the Esplanade Park was greened with ten specially selected and magnificent trees. In turn, last year 12 Dutch linden trees were planted in Cesis, supplementing the already existing greenery in the Gauja National Park along the VENDEN health trail and on Cirulisu street near the production plant.
VENDEN will continue the campaign in 2024as well. In the public vote, it has already been determined that next year the greenery will be replenished in Ventspils, but in 2025 it is planned to plant trees in Liepaja.