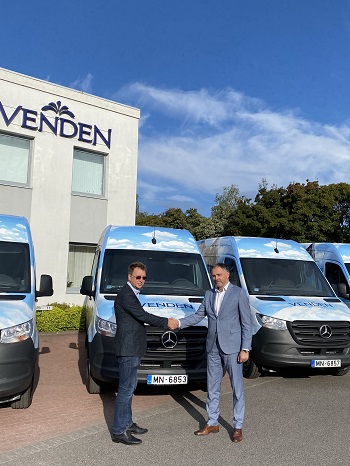 Continuous growth and development of the company requires a constant increase in the efficiency of order deliveries throughout the territory of Latvia. This means using the most modern and efficient solutions by the logistics department of the enterprise. Therefore, in 2020, VENDEN, with the financing by "SEB lizings" Ltd. in the amount of 916 thousand euros, updated and replenished its fleet with 17 new Mercedes-Benz Sprinter cargo vans. The new cars were provided by the general representative of Mercedes-Benz AG and Daimler Truck AG in Latvia - "Domenikss" Ltd.
Sprinter vans have been used in the VENDEN fleet before, proving themselves to be reliable, high-quality and very economical vehicles. The new Sprinter vans address more than just basic logistics challenges. Improved safety systems, driver assistance programs and additional comfort features will improve the working conditions of drivers and make it easier for them to perform work tasks to ensure continuous and efficient work in the mode of daily workload.
"Strengthening the company's vehicle fleet with 17 new minibuses that meet all the needs of the company will improve all logistics processes and increase the quality and speed of service to our customers not only in Riga, but also in all regions of Latvia," said Villijs Jukams, Logistics Director of VENDEN.