Children are our greatest joy and concern, and, of course, our future. Each parent wants to give their children only the best, taking maximum care to the best of their abilities and knowledge, trying to provide nutrition, including water, of the best quality. According to the VENDEN survey, almost a quarter (23%) of Latvian mothers buy high quality water for their children. From among them, 48% buy the so-called "baby water", the packaging of which is usually packed in children's themes. But what, besides the packaging and the manufacturer, should you pay attention to when choosing water for a child?
Certified nutrition specialist Svetlana Alekseeva explains that a child, especially until the age of one year, needs water, which does not only meet basic hygiene standards, but also has certain parameters: the water should contain a low amount of sulfates, sodium and fluorine.
When choosing water for a child, you should pay attention to the following criteria*:
• low sodium content: ≤ 0.02 g / 100 ml,
• low sulfate content: ≤ 0.025 g / 100 ml,
• low fluoride content: ≤ 0.11 mg / l,
• Low magnesium content: the recommended average daily dose is:
→ For children from 7 to 12 months: 60 mg
→ For children from 1 to 3 years: 100 mg
It is important to pay attention to the degree of mineralization, which can be very different - from 0.01 to 14 g / l. For infants, it is recommended to use water with a degree of mineralization ≤ 0.5 g / l (sometimes referred to as "dry matter"), and children older than one year may already be given water with a mineral content of 0.5–1.5 g / l. VENDEN natural mineral water has the optimal combination of minerals and low sodium levels, so it may be used without restriction at any age, including during pregnancy and lactation.
The nutritionist adds that when choosing water for the baby, it is recommended that you prefer water neutral in taste and composition. When introducing complementary foods and preparing the first dishes with the water for the baby, you should give preference to soft water. Spring water VENDEN Mezavots in all respects corresponds to groundwater of the highest value. It is water with a low level of mineralization and hardness, as well as low iron content. Due to the neutral taste of spring water, its composition and softness, it can be used for cooking food for children. Such food will seem more delicious to the child.
It is important and in the long term to strive to ensure that the child drinks water instead of sweetened drinks. According to the expert, the wrong drink choice is one of the reasons for the high level of obesity among Latvian children (25%) and, among other things, it stimulates the development of diabetes.
How much water should a child drink?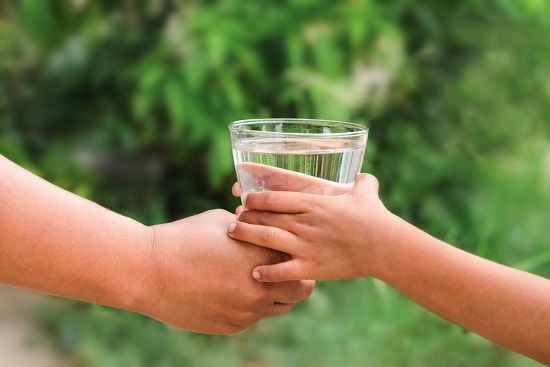 The World Health Organization informs that the recommended amount of liquid consumed depends on many factors: age, weight, height, current activity, humidity and air temperature, as well as how much liquid a person consumes with food. For example, the amount of liquid in the body is also affected by whether the child had a bite: a sandwich or a watermelon. "From 4 to 8 years old children should consume approximately an average of 1.6 liters of liquid as food and drink, of which about 1.1 - 1.3 liters in the form of drink. From 9 to 13 years old, the gender of the child already matters: boys are recommended to drink about 1.5 - 1.7 liters of liquid, and girls - 1.3 - 1.5 liters," S. Alekseeva explains.
Most often - to make it easier for mothers to choose - water, which in all respects is suitable even for infants, is packaged in bottles with a specific design, designed in a children's theme. But, unfortunately, far from always a "childish" design or inscription on the price tag is a guarantee that water is really suitable for a small child. For this reason, parents should be very careful and check the composition of the water on the label.
* Based on recommendations from the U.S. Food and Drug Administration (FDA) and the UK National Health Service (NHS)