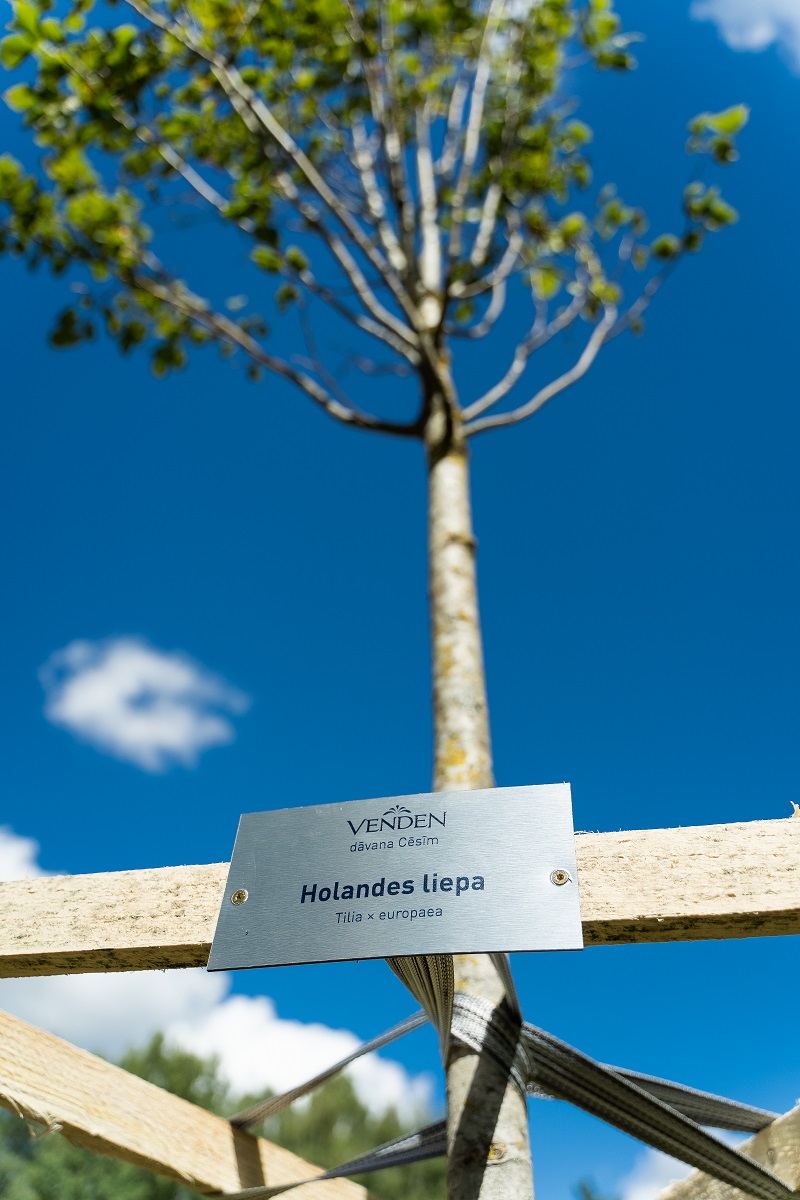 For the third year in a row, VENDEN, the Latvian manufacturer of spring and natural mineral water, has continued to take care of nature by planting trees in various Latvian cities. As a result of the people's vote, Cesis, where one of the six VENDEN branches is located, was chosen for greening this year.
On August 10, VENDEN, in cooperation with the Council of Cesis region, improved the environment in one of the oldest and most beautiful cities in Latvia, where the mineral water spring "Cirulisi" and the VENDEN manufacturing plant are also located. A total of 12 Dutch linden trees were planted, supplementing the already existing vegetation of Cesis. Seven of these trees will grow in Gauja National Park along the VENDEN health trail, which is part of the Cirulisi natural trails along the Gauja, while five linden trees were planted on Cirulisu street near the VENDEN manufacturing plant.
"Greenness is inscribed in the genes of Cesis - we are surrounded by the Gauja National Park and environmental issues have always been a priority on our agenda! We thank and are happy for the VENDEN's initiative and socially responsible action, which goes hand in hand with our commitment to be a climate-neutral and green municipality! Let this example serve as an inspiration to both other companies and private land owners to take care and nurture the environment around them!" wishes Atis Eglins-Eglitis, the deputy chairman of the Council of Cesis region.
For the first time, the VENDEN tree planting campaign took place in Riga in 2020, when the Ebelmuiza park in Ziepniekalns was supplemented with 15 trees which were considered rare by means of dendrology. However, in 2021, Daugavpils was chosen in an online vote, where the Esplanade Park was improved with ten specially selected and magnificent trees.
"Caring for Latvian nature is one of the company's priorities, and also in daily work, VENDEN tries to reduce the consumption of natural resources as much as possible, for example by introducing a digital invoicing system, improving the shape of bottles and caps, thus significantly reducing the use of plastic. Moreover, taking care of the environment, the company recycles around 40 tons of plastic every year. The company's green thinking is also evidenced by the award received in 2021, when VENDEN was ranked third in the category "The greenest Latvian brand" in the list of the most loved brands in the Baltics," saka VENDEN says Aldis Škutāns, VENDEN's CEO, also expressing gratitude to the Council of Cessi region for cooperation within framework of project of this year.
In 2023, VENDEN will continue the campaign, greening the cities where VENDEN branches are located, so we are already urging residents to actively participate and vote to determine which of the cities - Liepaja, Jelgava or Ventspils - will be supplemented with green area by VENDEN next summer.
To participate in voting, please visit this page: https://www.venden.lv/koki/. Voting will take place until September 15.