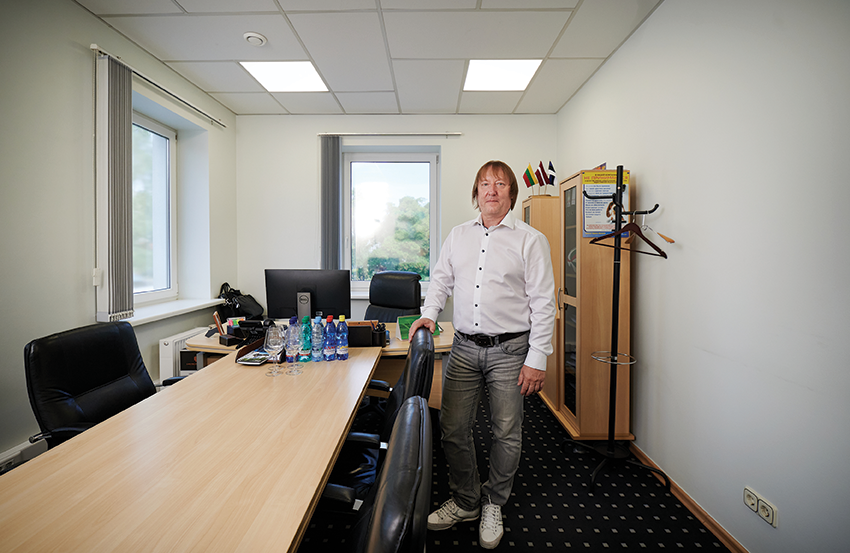 How does the day of VENDEN'S CEO Aldis Skutans pass? Recently, "IR Nauda" magazine had opportunity to have a look to his workplace and learned more about his work habits and philosophy.
A computer, a large A4 notebook and several family photos on the table are all that Venden CEO Aldis Skutans needs daily to manage a large team of 210 people. And the car keys, because a large part of the working day is often spent outside Riga - in the company's factory in Cesis or in branches located in the largest cities of Latvia.
Different water bottles can be seen in the cupboard next to the table. "We have its full history and archive in Cesis, but I also keep various newer and older samples in my office. Every day we constantly think of how to improve our product, what to change, and the bottles help to remember what colours we have historically used in the design, we can also see if the labels do not fade over time. Visually, the historical corner helps to generate new ideas," the CEO reveals.
A. Skutans wakes up every morning around six o'clock, the first cup of coffee is calmly drunk at home, meanwhile gathering thoughts, considering great issues the mind is ready for today. If there is no inspiration and deadlines allow not to sit right at the desk and documents, A. Skutans is happy to go to Cesis. "The pandemic has not stopped our business niche, everything happens, we may consult more often online or in video format remotely, but the pace of work has certainly not stopped," he explains. However, it is better to meet in person. To shake hands, talk, feeling each other's reaction and attitude. "I always have fresh air in my office because I'm on the move outside most of the day," he laughs.
Taking care of 210 people is definitely not an easy job? Venden's CEO says that his office door is always open, and the phone is on, he ready to solve any problem and listen to employees. "There are people of different ages in our team, so we understand that a unified motivation system does not work. Indeed, everyone likes money, and it will always be too little, but it alone is not enough, so we are looking for different ways to motivate employees. If you need a TV, we provide a TV, if you want to have a party, we organize a party for you," Skutans determines with some hint of irony.
The turnover of employees in the company is small. Drivers change most often, because they currently have to serve about 70 customers a day, lifting and carrying an average of eight tons of water in their hands during the week, sit in traffic jams in hot summer, and often listen to a stronger name from customers. They are the ones who meet buyers of water.
The driver tries to be neutral, to keep a short distance. "I don't have to be a king looking from above, but I shouldn't let people too close to myself, so as not to lose my objectivity and to be honest with everyone. Sometimes I may be harsh when it is impossible to find a solution, but the directors feel it more. I can't make everyone happy if one can't agree. I can say that there is a new life behind the blue gate," he says, opening the blinds and pointing to the bright blue gate that surrounds the Venden's building.
However, taking care of the growth of employees, CEO always tries to provide an opportunity to climb the career stairs within Venden team. But if for some reason it is impossible, he is not afraid to recommend a good employee to other entrepreneurs as a candidate for a higher position. "There are a couple of such positive examples, we wave hello each other on the street and smile, I'm happy for the people who succeed!"
Holidays are dedicated by the CEO to his sons. They also do not allow to relax on Saturdays and Sundays, because holidays have already been planned by sons, for example, climbing trees on the Tarzan's track, cycling or hiking in the woods with their dad.