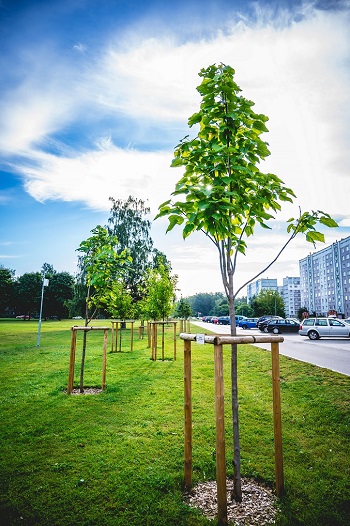 VENDEN has been taking care of the environment for many years. Taking care of nature, VENDEN recycles used plastic packaging, uses energy-efficient solutions in production, and now the company has decided to abandon paper in its daily work, switching to more modern technologies. From 2021, VENDEN plans significantly - by 80% - to reduce the use of paper in daily work by switching to a successfully developed electronic system for both invoicing and office work. This year it was also decided to start a new tradition - to plant trees every year in one of Latvian cities to take care of the environment, improve air quality and improve the territory.
The first campaign took place in cooperation with "Rīgas meži" Ltd. in Riga, adding dendrologically rare trees to the Ebelmuizas park in Ziepnekkalns. Now, in the park with bicentennial oak trees, there are such interesting plants as ash-leaved maple (Acer negundo 'Flamingo'), wild beech (Fagus sylvatica 'Swat Magret'), leather skumpia (Cotinus coggygria 'Royal Purple'), tulip liriodendron (Liriodendron tulipifera), Serbian spruce (Picea omorika), American linden (Tilia americana) and others. "Rīgas meži" Ltd. with great joy thanks VENDEN for such a valuable gift for Riga city. Pardaugava and Ziepniekkalns have acquired a wonderful addition to the green infrastructure of the city. We are glad that the company takes care of creating a harmonious, reliable and picturesque environment in the city for the soul and joy of the eyes," says Janis Ledins, head of the "Dārzi un Parki" department at "Rīgas Meži" Ltd.
VENDEN plans to continue the tree planting campaign in the future in one of the cities where the company's branch is located - in Ventspils, Liepaja, Jelgava, Cesis or Daugavpils. For a month, VENDEN urged inhabitants to vote actively for tree planting in one of these cities. According to the results of the vote to make cities greener, Daugavpils won. Next spring VENDEN will go to Daugavpils to plant new trees, take care of the environment and make the city even more beautiful.