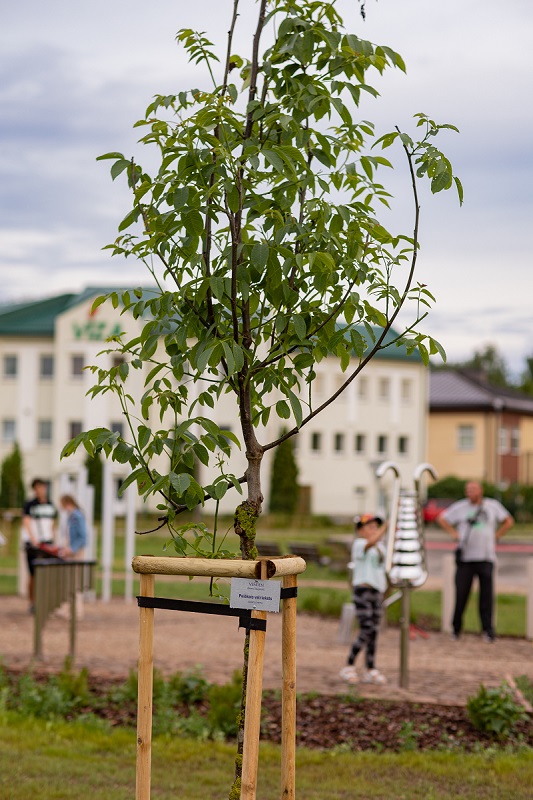 Latvian spring and natural mineral water manufacturer VENDEN launched this initiative last year by planting trees in cities to promote green thinking and care for the environment. Residents were invited to vote for one of the five cities where the company's structural units are located, and the most active were residents of Daugavpils, who have acquired new trees in the Esplanade Park. The city has recently started building a new recreation area in the Esplanade Park, where there are both active and passive recreation areas, but so far there have been very few trees. City residents and guests love the park, but there are no shady places yet, so the trees gifted by VENDEN are planted right here.
The Executive Director of VENDEN, Aldis Skutans, says that the company continues its long-term path to the vision of the "green" brand and constantly takes initiatives to preserve and improve the environment and nature: "One of initiatives is to make city environment greener, by gifting trees and beautiful bushes to residents in various Latvian cities. This year we had the great pleasure to continue our greening initiative together with the largest city of Latgale, Daugavpils, and to create an oasis in the vast Esplanade Park with specially selected trees. We are proud that now this oasis will be able to delight Daugavpils residents and guests with its splendour for many years and give everyone a great rest!"
To choose the next city where VENDEN branches are located and where the campaign will be continued, we invite residents to vote for Ventspils, Liepaja, Jelgava or Cesis to carry out the desired environmental arrangement activities in one of these places. To participate in the voting, please visit this page: https://www.venden.lv/koki/
Voting will take place until August 15, 2021.
Last year, the VENDEN campaign took place in cooperation with SIA "Rīgas meži", when Ebelmuiza Park in Ziepniekkalns was supplemented with dendrologically rare trees.